Eric Johnson (Whitney Fordman)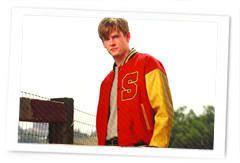 ---
Nome Completo: Eric Johann Johnson
Data de Nascimento: 07 de agosto de 1979
Local de Nascimento: Edmonton, Alberta, Canadá
Altura: 1'88m
Signo: Leão
Estado Civil: Casado

... Eric Johnson se matriculou na escola de teatro aos 9 anos. Desde então sua carreira como ator no Canadá foi muito ativa, a mais de uma década. Em 7 de agosto de 2004, Eric, se casou com sua amada de muito tempo, a escritora canadense / produtora Adria Budd, e ela trabalhou como uma ajudante de Annette O'Toole em Smallville. O papel mais memorável de Eric (antes de Smallville, é claro) foi o "jovem Tristan" no filme estrelado por Brad Pitt, "Legends of the Fall". No Canadá, Eric fez o papel principal num filme premiado chamado "Scorn". Whitney foi o zagueiro do Smallville Crows e namorado de Lana Lang. Eric saiu da série no final da 1ª Temporada quando seu personagem se alistou no exército americano, mas ainda fez uma participação na 2ª Temporada, no episódio "2.11 - Visage", onde foi concretizada sua saída, com a morte de Whitney numa batalha.

Curiosidades:
- Gosta de tocar violão, pintar, tirar fotografias, andar de caiaque, acampar, jogar basquete, futebol americano e baseball.
- Seu programa favorito: Os Simpsons
- Suas atrizes favoritas são Helena Bonham Carter, Charlize Theron e Molly Parker.
- Tem um irmão 3 anos mais velho

Filmografia:
- The Work and The Glory III - A House Divided (2006) - como Joshua Steed.
- The Work and The Glory II - American Zion (2005) - como Joshua Steed.
- Expiration Date (2005) - como o controlador de animais.
- Marker (2005) - como Roddy Dutch.
- Falcon Beach (episódio piloto - 2005) - como Lane Bradshaw.
- Anonymous Rex (2004) - como Rhys.
- The Work and The Glory (2004) - como Joshua Steed.
- Ginger Snaps Unleashed (2004) - como Tyler.
- Hollywood Wives (série de TV/2003) - como Brian.
- Stealing Sinatra (2003) - como Dean Torrence.
- Greendale (2003).
- Beauty Shot (2002) - como Chad Johnson.
- Candy from Strangers (2002) - como diretor.
- Bang, Bang, You're Dead (2002) - como Mark Kenworth.
- Player$ (2002) - como ele mesmo.
- The Boys of Fraser Street (2002) – como Jim.
- Smallville (série de TV /2001) - como Whitney Fordman.
- Anatomy of a Hate Crime (2001) – como Rollins.
- Texas Rangers (2001) - como Rollins.
- MythQuest (série de TV/2001) - como Telemachus.
- Bear with Me (2000) - como Scott Robinson.
- Borderline Normal (2000) - como Rocco.
- Children of Fortune (2000) - como Andrew.
- Scorn (2000) - como Darren.
- Atomic Train (1999) - como Danny.
- Question of Privilege (1999) - como Joel Aldridge.
- Honey, I Shrunk The Kids (TV/1998) – como Ray Bonzoni.
- Heart of the Sun (1998) - como Jack.
- Oklahoma City: A Survivor's Story (1998) - como Jason.
- Nightman (série de TV/1997).
- Legends of the Fall (1994) - como Teen Tristan.
- Road to Saddle River (1994) - como Lance.
- Are You Afraid of the Dark? (série de TV/1992) - como Sly.
- The Ray Bradbury Theatre (1985).

Site: http://www.ericjohnsonweb.com